Conversion tracking is the process of tracking and monitoring customer actions that are considered valuable to your business.
With conversion tracking in Google Ads, as well as in Microsoft Ads, and other marketing platforms, you can monitor how customers interact with the advertisements, websites, and apps, and optimize your campaigns based on real customer data.
This helps you to understand customer engagement and make data-driven decisions to improve your advertising efforts.
Examples of conversions that can be tracked include filling out a form, email sign-up, downloading an app, or making a purchase, also called hard conversions. But also, you can track, page visits, time on site, and phone calls, also known as soft conversions.
Why Is Conversion Tracking Important?
Conversion tracking is important because it helps you maximize the potential reach and performance of the campaign, and when done correctly, it can be very beneficial in making the campaign successful.
Well-set-up and intelligently used conversion tracking can guide the campaigns toward the right business and marketing goals.
Here are 5 benefits of using conversion tracking:
Measuring campaign effectiveness: Conversion tracking allows you to measure the effectiveness of your campaigns by tracking the number of conversions generated by each campaign. By tracking conversions, you can identify which campaigns are driving the most conversions and optimize them according to your objectives.
Optimizing ad spend: By tracking conversions, you can see which advertisements and ad groups are performing well, and which ones are underperforming. This gives you the ability to make adjustments in spending favoring better-performing campaigns.
Understanding customer behavior: Conversion tracking allows you to understand how customers interact with your different ads, websites, or apps. This understanding of customer behavior can help you make data-driven decisions about how to improve your campaigns.
Access to smart bidding campaigns: By setting up conversion tracking you gain access to advanced tools like Smart Bidding. This allows you to optimize your campaigns with bidding strategies in Google Ads such as target CPA, target ROAS, etc.
Data-driven decisions: Conversion tracking allows you to measure the conversion volume or value you are generating for a given cost. This can help you make data-driven adjustments among your campaigns that best reflect your business objectives.
Different Ways To Track Conversions
Conversion tracking in Google Ads allows for online and offline tracking. And based on what conversions you aim to track, it can be set up in 4 different ways:
| | |
| --- | --- |
| Website conversions | Lead form submission, Sign-Ups, Clicks, Page Views, Purchases, etc. |
| App conversions | In-app purchases, App Installs, In-app actions |
| Phone calls | Calls from ads, Calls to a number on your website, Clicks on number on mobile sites |
| Import conversions | Calls from ads, Calls to a number on your website, Clicks on numbers on mobile sites |
Overall, Google Ads Conversion Tracking helps you track the effectiveness of your campaigns and optimize them for better results.
Conversion Action Categories
When setting up a conversion, you will be asked to select one of the 3 conversion categories: Leads categories, Sales categories, and Further categories.
They don't have any impact on your conversion tracking, they are useful when segmenting your conversion reporting data by category.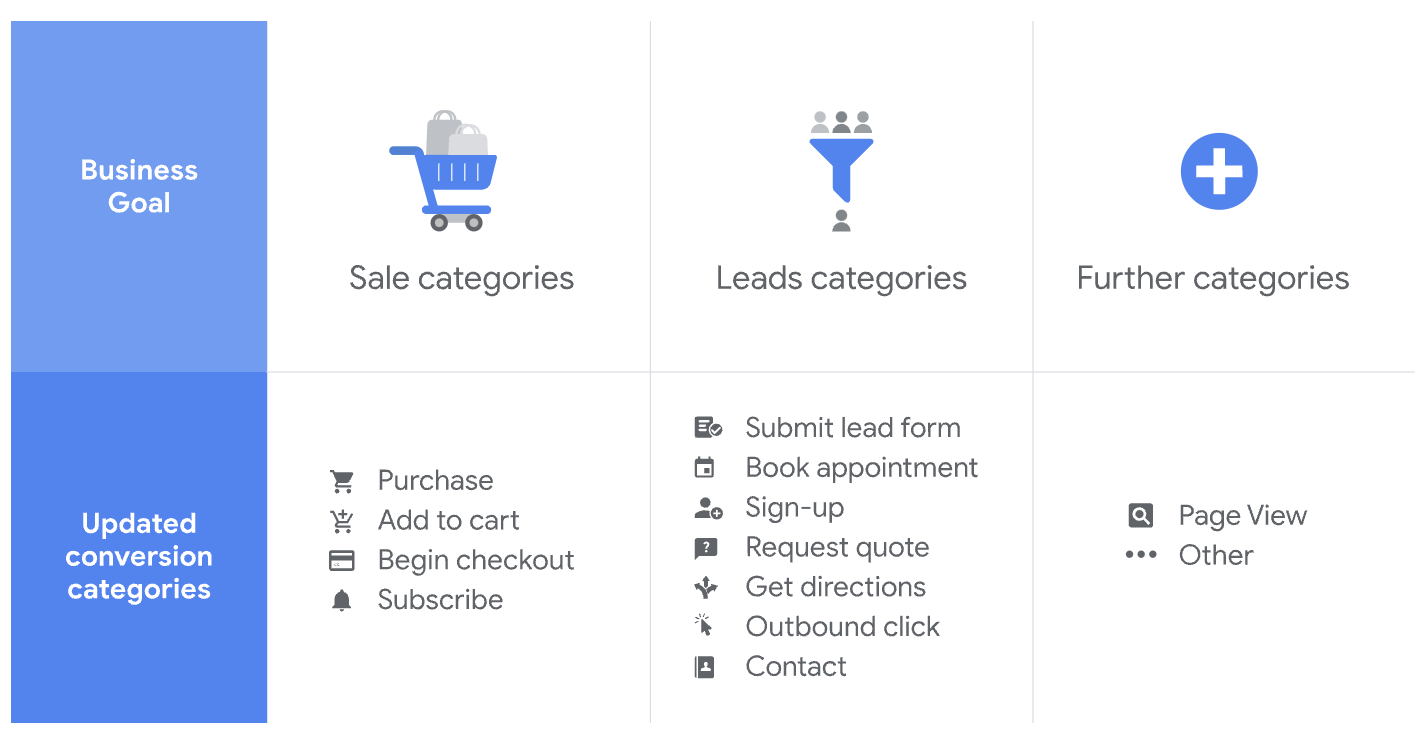 How To Set Up Conversion Tracking in Google Ads?
Setting up conversions will depend on your goals and your business. Do you have a website? Do you have an app? Are you tracking conversions in Google Analytics? Do you have online and offline conversions?
To get the details on how to set up each of these, check out the complete Google's official documentation. You can also check out this amazing video from Love Data which visually explains the setup process.
"All Conversions" vs "Conversions" Column
The simple difference between these columns is the conversions they report. As the name explains, the "all conversions" column takes into account all the conversions that the campaign tracked, regardless if it's a conversion the campaign is optimizing towards or not. On the other hand, under the "conversion" column you will only see the conversions the campaign is actively optimizing toward.
Whether a conversion falls under "all conversions" and also under the "conversions" columns will depend on the action optimization. There are two.
"Primary conversion actions are used for optimizing your bid strategy when their corresponding conversion goal is selected for a campaign. They're also reported in the "Conversions" column."
"Secondary conversion actions are used solely for observation purposes, and are only reported in the "All conversions" column even when the corresponding goal is used."
Note: Primary or secondary actions that are included in a custom goal and are then selected at the campaign level in the settings, will be reported in the "Conversions" column.
Here are 4 steps to check in a glance the individual conversions that fall under "all conversions" and under "conversions":
Add both the "conversions" & "all conversions" columns
Select "Segment" on the left of the "Columns" button
Choose "Conversions"
Select "Conversion action"
Online vs Offline Conversion Tracking
Online conversions refer to actions that happen on a website or through an online platform. One big benefit of online conversions includes the ability to track and measure results in real-time. However, there are some downsides to online conversions which can be potential security risks and technical difficulties.
Offline conversions refer to actions that happen in person or through traditional offline channels. The benefit of offline conversions is the ability to capture conversions that happen in the physical world. On the other hand, tracking and measuring these results is what makes offline conversions difficult to set up.
The good part of Google Ads, Microsoft Ads, and other marketing platforms, they let you track online conversions through various setups, but also give you a way to import into the system offline conversions that have happened in the real world.
To import offline conversions in Google Ads, here are the steps you can follow:
Create a conversion action: Go to the "Conversions" page in Google Ads and create a new conversion action. Select "Import" as the conversion source and give your conversion action a name.
Prepare your conversion data: Your conversion data needs to be in a specific format, including a conversion time, conversion value, and any additional information such as order ID or product name.
Import your conversion data: Once your data is prepared, you can import it into Google Ads using one of the following methods:

Use the Google Ads API
Use the Google Ads conversion tracking tag
Use a third-party data integration partner
Verify the imported data: After importing your data, you can go to the "Conversions" page in Google Ads to verify that your offline conversions have been imported successfully and to check the data.
Once you have your offline conversion data, you can use it to further optimize your campaigns, adjust your bids, and better track your KPIs.
Note: If you are looking to import data from Google Analytics, you will need a Google Ads account and a Google Analytics account, and have them linked. Also, offline conversion data can only be imported for 90 days after the conversion date.
6 Attribution Models in Google Ads
Attribution models are methods used to attribute credit for conversion among the various touchpoints that have taken place in the conversion path. In other words, they help to determine which specific actions and interactions of a user have led to a specific conversion.
Picking the right attribution model will highly depend on the type of business and the goals you try to achieve among your marketing channels.
When setting up your conversions you will have to choose one of 6 different attribution models :
Last-click attribution: Conversion credit is given to the last click before the conversion occurs.
First-click attribution: Credit for a given conversion is attributed to the first click that led to the conversion.
Linear attribution: This model distributes equal credit across all touchpoints in the conversion path.
Time decay attribution: This model gives more credit to the last few touchpoints closer to the conversion moment, and less credit to the first touchpoints that happened farther away in time.
Position-based attribution: Conversion credit is attributed more to the first and last touchpoints in the conversion path and less credit to the touchpoints in between.
Data-driven attribution: To attribute credit, this model uses machine learning to analyze the conversion data and determine the most appropriate way to distribute the credit among the different touchpoints that occurred.

Key Takeaways on Conversion Tracking
Conversion tracking will play a significant role in maximizing the performance of your campaigns. With a well-set-up conversion tracking you can push the campaigns to optimize toward delivering one or multiple conversions.
In today's world, you can track almost anything. From online to offline conversions, from clicks, to lead form submissions, to in-store purchases.
It will help you measure more accurately your efforts and the performance of your campaigns. This data will be extremely valuable for your decision-making.
Tracking your conversions gives you better clarity on customer behavior and intent. This can help you better put together your marketing strategy and paint a clearer picture of what you aim to achieve.
Be careful with "primary" and "secondary" attribute when you are setting up the conversions. This small difference indicates if the campaign will optimize for that conversion or not.
Stay true to your business goals because it can get confusing and overwhelming when juggling many different soft, hard, online, and offline conversions. Focus on what drives your business.