The Google Ads Keyword Planner will be one of your best friends. It's a very powerful tool that can help you improve your Google Ads campaigns and can be used in many different ways. From doing detailed keyword optimization and research to doing competitor analysis.
Where To Find The Google Ads Keyword Planner?
Finding the Google Ads Keyword Planner is quite simple.
Log in to your Google Ads account
Go to "Tools" on the left-side navigation menu
Under the "Planning" section you will find "Keyword Planner".
You may find your layout to be a bit different than this one, maybe a more horizontal layout than this vertical one, but don't be afraid, if you follow these steps you should be able to find it quite easily regardless of the layout.
Once you've clicked on it, you will be greeted with two main options:
Discover new keywords
Get search forecasts and volumes
Is Google Ads Keyword Planner Free?
Yes! Google Ads keyword planner tool is completely free to use.
As we discover further on, you can use it to discover new keywords, prepare your campaigns in great detail, and get approximative search volumes and forecasts for your selected keywords.
Note: Although it's free to use, you are required to already have or open a new Google ads account. The keyword planner is exclusively accessible through your Google Ads account.
How to Use Google Ads Keyword Planner
Google Ads Keyword Planner is a free tool that helps you research and discover keywords for your Google Ads campaigns. It provides data on search volume, competition, and suggested bids, which can help you make informed decisions about your keyword targeting.
Using Keyword Planner To Discover New Keywords
If you are just starting out with your campaigns or you are searching for new keywords this is a great way to do so. You will be presented with two methods for finding new keywords, it can be either done by imputing keyword ideas or by scraping a website or a domain.
In the case where you are just starting out and you are not certain what keywords you should be targeting, the keyword planner also allows you to use your or other websites to generate the first batch of keyword ideas. Not all of them will the exactly relevant, but then you can use this first list of keywords and go back to the previous section where you'd use these keywords to find other similar ones.
Also, a useful feature is using the filters such as language and location. Adjusting these filters can help you be more precise with your research and obtain the most relevant results.
Analyze Competitors With The Keyword Planner
You can be quite sneaky with this tool. As we mentioned before to get new keywords you can put a website and Google will scan the most used keywords and understand what the page is about in order to offer you the most relevant keywords related to that page. You can put your competitors' websites and analyze what keywords Google will find.
This can be a great way to see what keywords they are focusing on and if you have some keywords that you have missed or you are not bidding on yet, then you've got yourself a jackpot.
You can go even further with this and if your competitors offer different products or services you can select the second option "Use only this page" and scan each individual page. Google will then provide you with a precise and more relevant keyword list specific to each product/service page.
You can do this as much as you need to, for as many competitors as you want, and go as deep as required. If used wisely this can be very powerful and useful.
Get Search Volumes & Forecasts With The Keyword Planner
The keyword planner tool is also a great way to get keyword volumes and forecast estimations. This is especially useful when you are also looking to understand the conversions you may get with certain keywords. You can either enter, paste, or upload your keywords. Once you've done so, by clicking on "Get started" you will be taken to a different page where you can do multiple things.
The two most important ones would be "Saved Keywords" and "Forecasts".
Saved Keywords: on this page, you will have all the keywords you initially entered, pasted, or uploaded. Here you would be able to see only their past data volumes, and for data range (point 4.) you can pick the last 12 months, 24 months, all available, or a custom range. You also have the possibility to filter your volumes based on the location (point 1.), the languages (point 2.), and the network (point 3.)
Forecast: here you can see the potential forecast of your keywords. It's not only the potential volumes but other metrics as well such as the impressions, clicks, CTR, avg.CPC, cost, conversions, conversion value, and ROAS. Just like in the "Saved keywords" page, you are also able to filter the results by location, language, network, and data range. The difference is that the date range you can select is for next week, next month, next quarter, all-time, or a custom one. So here you will be looking at the future forecasts. Additionally, you can also filter the results based on the bid strategy (point 5.). On the forecast page, you will also be able to create your ad groups and campaigns and get forecasts based on how you would structure them. Once they are ready you can immediately launch them.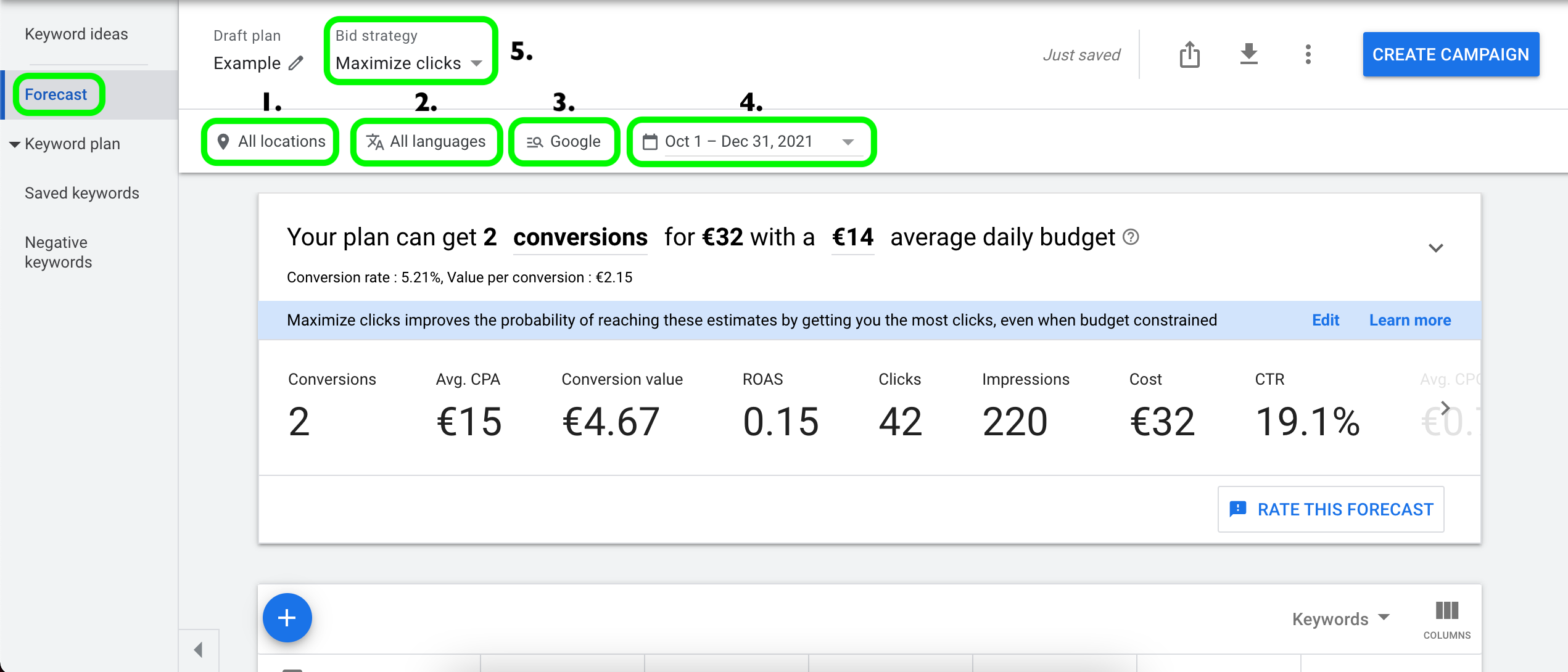 In conclusion, the Keyword Planner in Google ads is a great way to get lots of data, insights, and ideas. Use it as often as possible to get familiar with it quickly and explore all of its functionalities. If you are interested, check out the official support documentation provided by Google.