When starting out with your keyword research, whether it's for SEO or paid advertising like Google Ads, it's important to understand the niche you're targeting. The best way to get the right keywords is to put yourself in the shoes of the target audience and do lots of research. Understanding their point of view and what they may be looking for can greatly help you get started, but by far doing the right research and using the correct tools will have the biggest impact in making your keyword research a success.
To help you with your keyword research you only really need a few tools, here are 7 free and incredibly powerful tools you can start using today:
1. Search Engines
As you may already know, Google and other search engines like Bing have become very good at providing relevant suggestions and content related to your query. And so this can be a very powerful way to do your basic keyword research. Checking what others are also searching for is a great start and it can point you in the right direction.
To demonstrate we will use Google as an example, as it is by far the most popular and advanced search engine. But to some degree, you can also do the same with other search engines like YouTube, Amazon, and Bing. Here you can check the 7 Most Popular Search Engines in the World. It's good to check the other ones as well as they may give different suggestions because it could be that different demographics may be using different search engines.
Equally, you may want to also do these searches under Incognito mode as it can remove the cookies and the cash already existing on your browser. Or another solution to get the most unbiased results is to install a brand new browser like Chrome or Mozilla on your computer and use that one for doing your keyword research. This should eliminate most of the possible biases and give you the cleanest results.
Auto-Fill
The absolutely first and easiest thing you can do is go on Google and type your query and check the autofill. These autofill suggestions are a great way to check what others are also searching for. They can spark great ideas and also direct you to more specific keywords.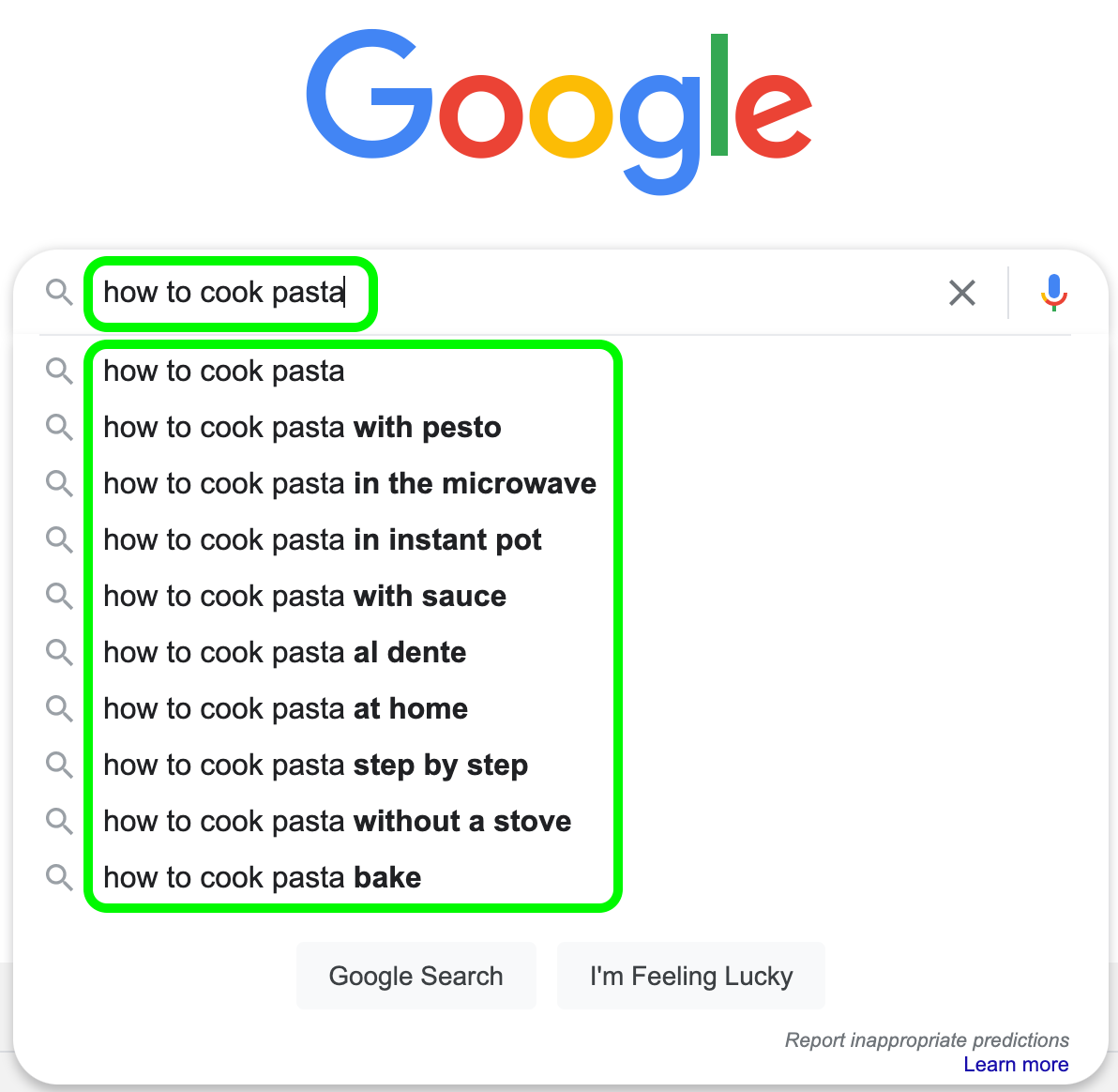 "People also ask"
When searching on Google, often a dynamically generated box in the search engine result page appears, called "people also ask". This section is an amazing way to see what other people are searching for and asking.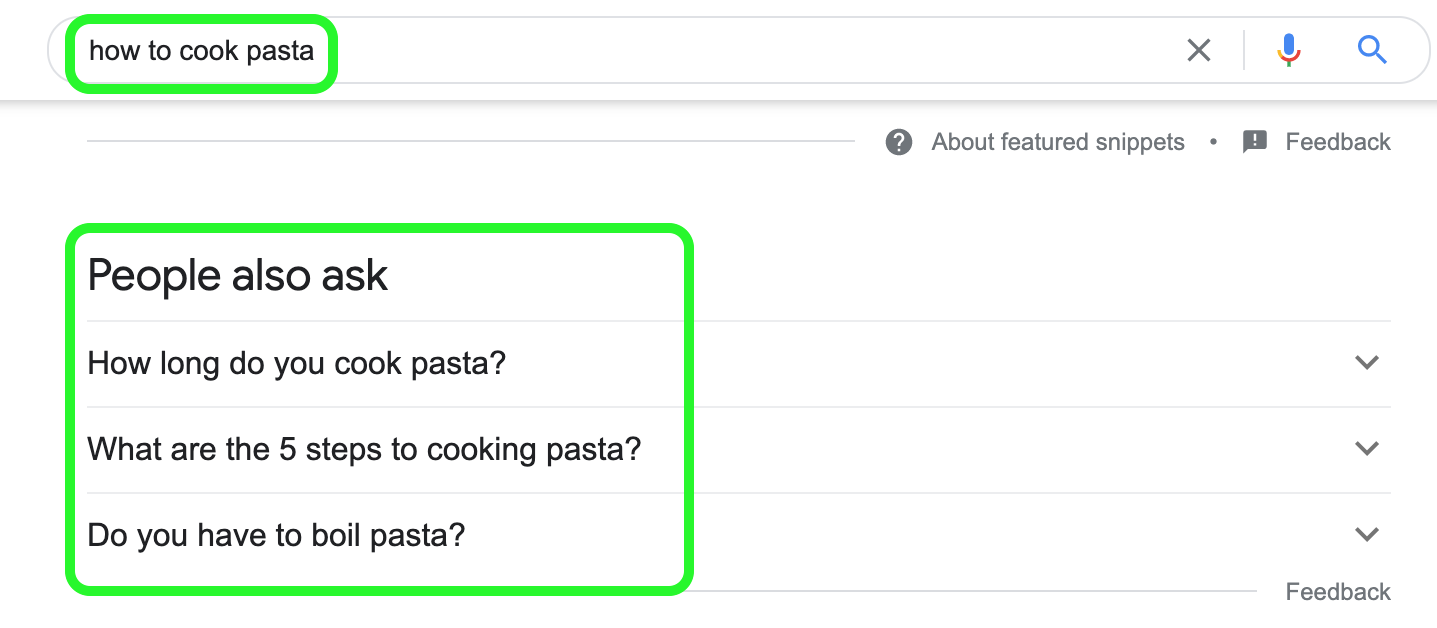 Related searches
This box is usually found at the very bottom of the result page or sometimes on the right side of the page. Equally powerful as the other two, the related searches box provides you with suggestions of what others have searched that is relevant to your query. Again, this is a great way to get guidance and ideas for new and relevant keywords.
As you can see, only by using the search engines you can discover many new and relevant keywords. Don't be shy to really dig deep, experiment with different search engines, and put all of the keywords you have discovered in a nice sheet where you can then review them.
There are, however, two major things to take into account with this method of doing keyword research.
Firstly, these search engines will try to learn as much as possible about you as quickly as possible. This can eventually make the results you get biased. So maybe cleaning all the cookies and caches or changing the browser will be a nice way to reset them.
Secondly, you don't get specific search volumes for the keywords you discover. It's a great way to generate ideas and discover relevant queries, but there are no associated metrics like volumes, competition, difficulty, etc.
If you would like to simplify a bit the previous steps and also get additional data such as volumes and keyword difficulty then the Ahrefs keyword generator is a great tool. It has its own limitations, in the way that it also shows phrase match (meaning the results will include your initial search as a phrase match + additional terms). It won't provide you with relevant topics or similar queries, but it's still a great way to discover volumes and get relevant keywords.
What makes the Keyword Generator an impressive tool is the option you have to easily switch between different search engines like YouTube, Bing, and even Amazon. Additionally, you can change your region in just a few clicks.
This browser extension is really something awesome that you have to have at all times. It's an extremely useful tool to take your keyword research to a whole new level. It's completely free, all you need is a browser. If you're reading this, you already have one. That's a check!
What makes the Keyword Surfer extension special is its ability to also provide you with an expected CPC for Google Ads Campaign alongside the search volume.
But this is not all, if you scroll down a bit in your search engine result page you will be able to see even more data. Here, you can do a few useful things. One is selecting the country for which you may want to check keyword ideas. Alongside the list of relevant keywords, you get the volumes that you can filter from highest to lowest, but you also get the relevancy. Filtering by relevancy can really enable you to discover keywords closely matching your original ones, but also suggest keywords that are not so straightforward but could still have potential. This can be particularly useful when you feel like you've discovered most of the top keywords. It can bring new perspectives to your keyword research and open completely new doors.
(Note: The Keyword Surfer seems to be only available for Google as of now. We will continue testing and update you once it's available for other search engines)
This tool is completely free to use, the only requirement will be to just sign up and create an account. The beauty of UseTopic is that it can help you find questions that other users may be asking. These are powerful queries that can really push forward your keyword research. It can help you discover new branches and topics related to your research. Bear in mind that this is a great tool to expand your keyword research, however, it's limited in the way that it doesn't provide any metrics like search volume, competitiveness, etc.
With Google Trends, you can uncover quite useful data. It can help you discover what regions around the world are interested in that topic, also what are the related topics and more importantly, related keywords, to the one you are researching.
Some useful features of Google Trends are the fact that you can check related queries based on regions as these may differ from place to place. By doing that you are able to expand your research and discover new keywords. Another useful feature is that you can filter the related topics and queries based on "Top" and "Rising". This can be particularly interesting, by filtering for "rising" you can get a peek at what is currently trendy in the particular region and get ahead of your competition. Conversely, by filtering for "top" you will get what your target audience is researching the most overall. Both of the filters can be a great way to discover relevant keywords and move forward with your keyword research.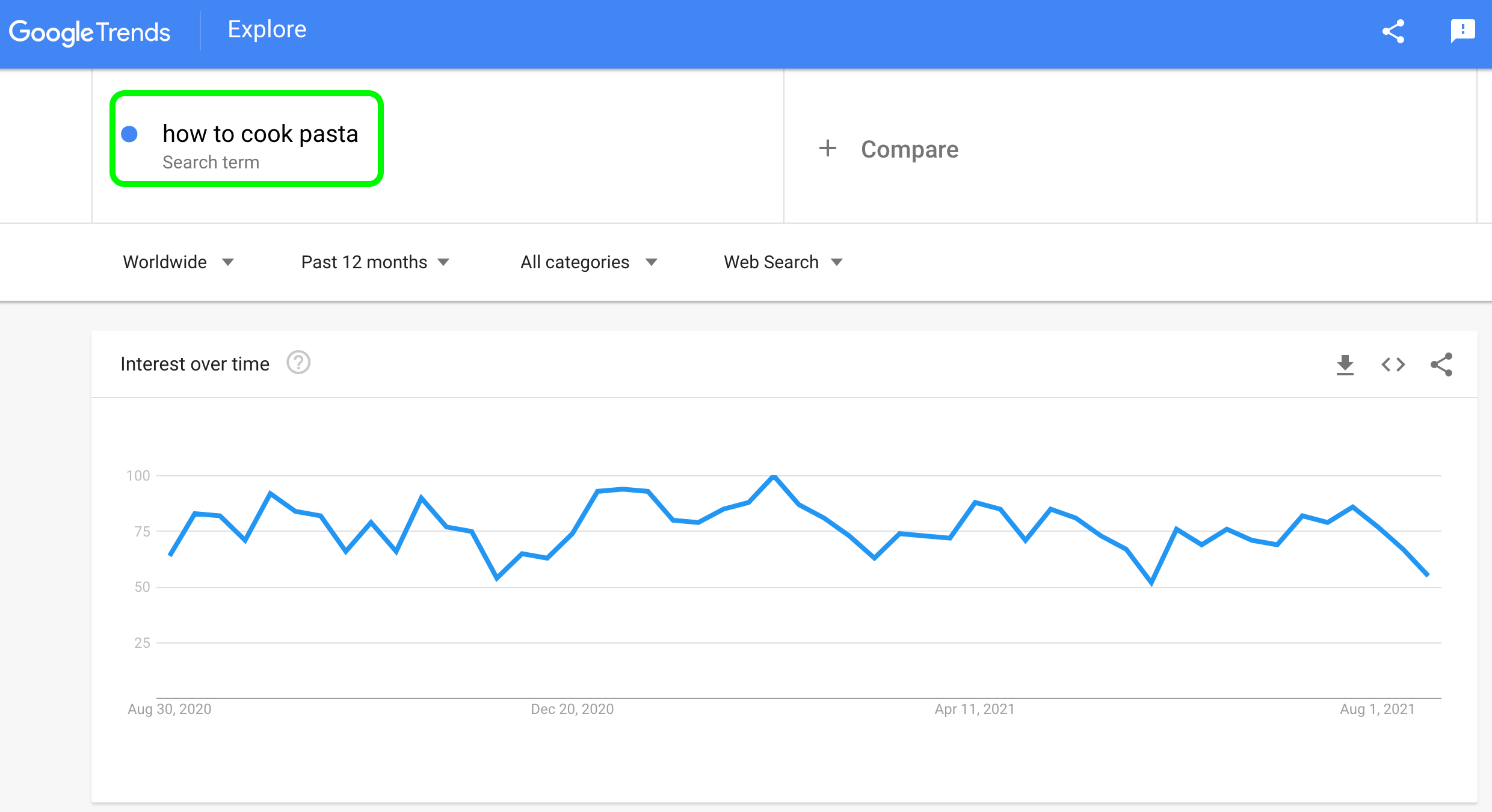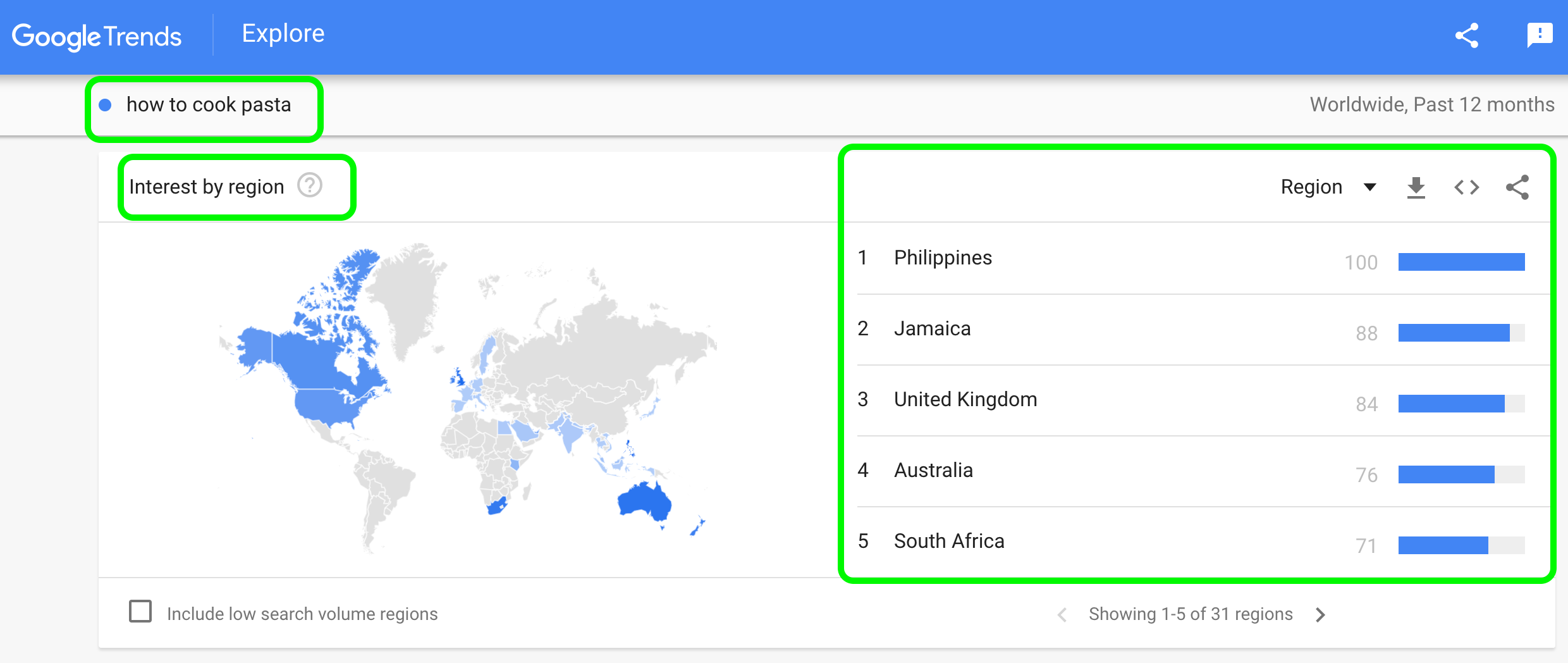 Last but not least is Neil Patel's Ubersuggest tool. It's a tool packed with data and useful information for your keyword research. You are able to filter by location and language which is always nice to have as an option to explore and broaden your analysis.
(Note: you might want to use this tool sparingly because you only get 3 searches daily. You can always sign up for a 7-day trial)

There's a lot to unpack as the dashboard is quite packed with data. But to make it simple, when first researching you are taken to the suggested keywords tab where you can find suggested keywords in correlation to your query. As you can see alongside the "Suggestions" tab you can also find the "Related", "Questions", "Prepositions" and "Comparisons" tabs. They are quite straightforward, but we strongly encourage you to take the time to check each one of them and analyze the results. For each of the keywords in the list, data such as CPC, volumes, paid, and SEO difficulty will be displayed.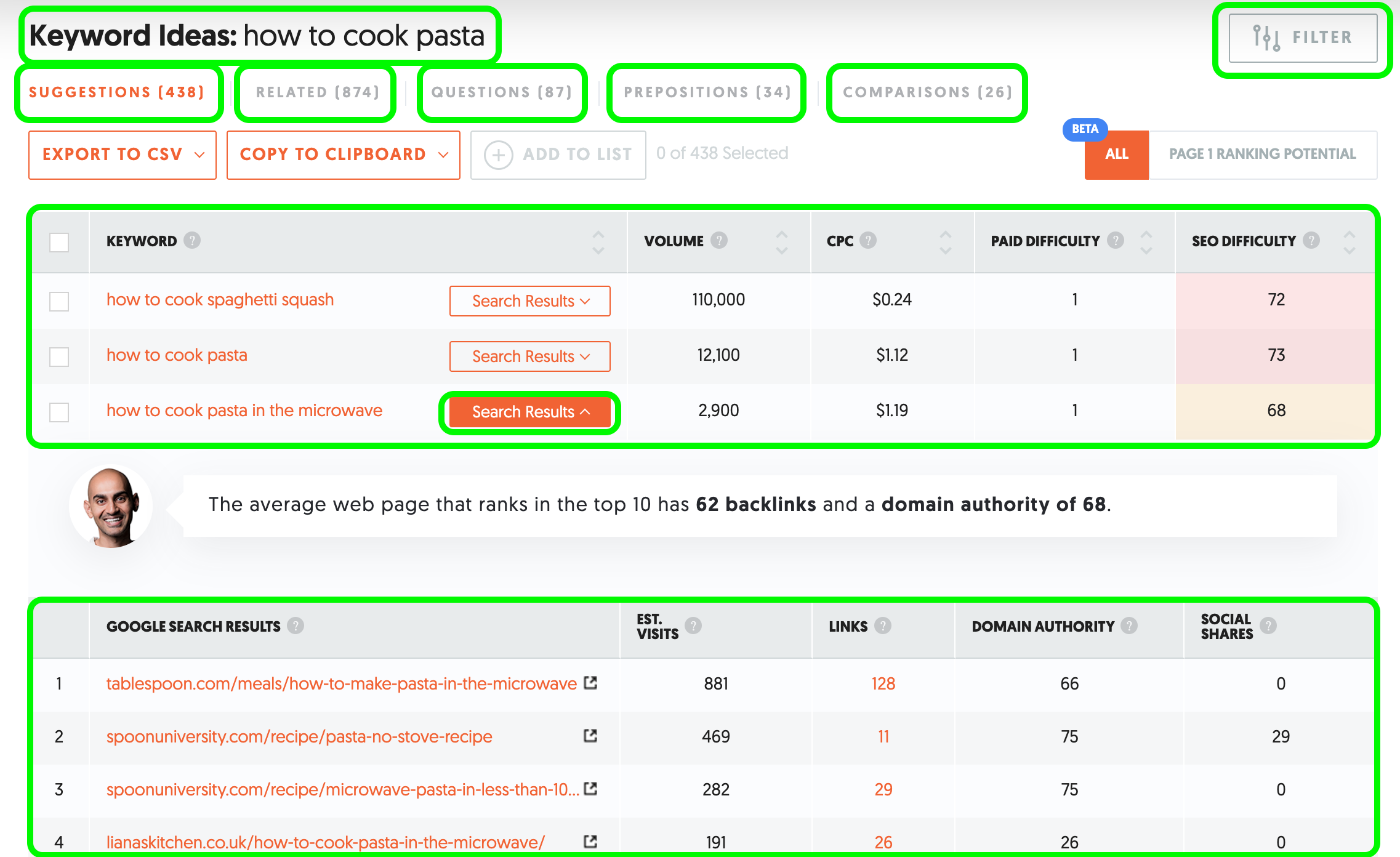 Next to each keyword, there is also a "Search Results" button which then opens a sub box below the keyword you selected and here you will find the search results for that keyword. Alongside the URL of the pages that rank to that keyword, you also get information such as estimated visits, authority, and social shares. If you are unsure of what these mean, don't hesitate to check out the little question mark button next to them.
Finally, if you really want to take your analysis further you can check out the filter function (top right corner). This can be particularly helpful when looking to narrow down your keyword research to match specific criteria. You are able to filter by volumes, CPC, paid, and SEO difficulties.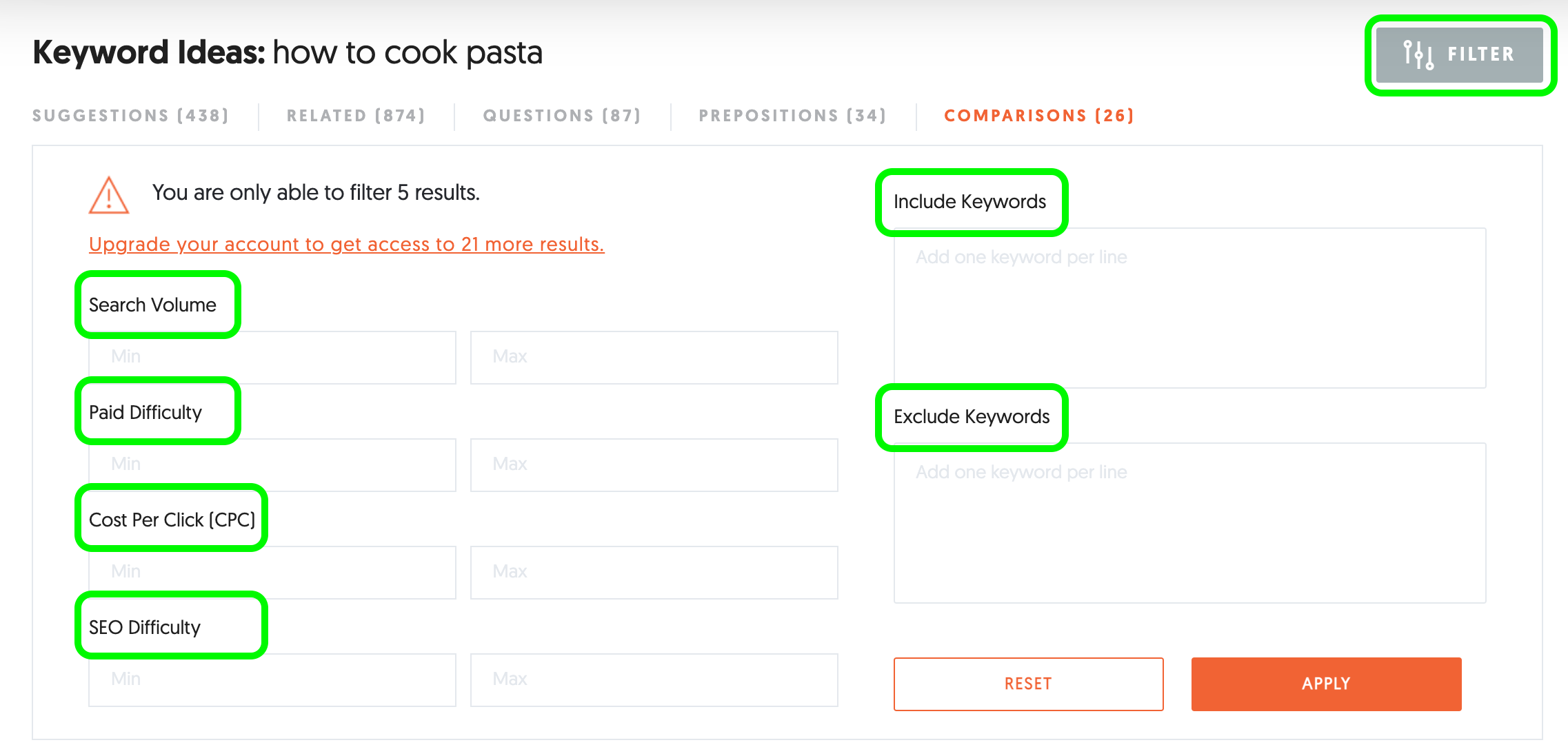 (Note: You are only able to filter 5 results)
(Note: The Microsoft Webmaster Tool is indeed free but it requires you to have a website and use Bing)
There are ways you can work around this, but the reason why we chose the Bing Webmaster Tool over Google Search Console is because Google Search Console seems to have lost that feature. While it was possible to do keyword research before, with the new versions it's no longer available. While Microsoft Bing Webmaster Tool still has that feature available.
You will find the "Keyword Research" tab under "SEO" on the left sidebar and there are many things you can do with this tool. The top metrics you are shown are the search volume, and also breakdown by country and volumes respectively. To narrow down your keyword research on the top of the dashboard you are able to filter by country, language, device, and date.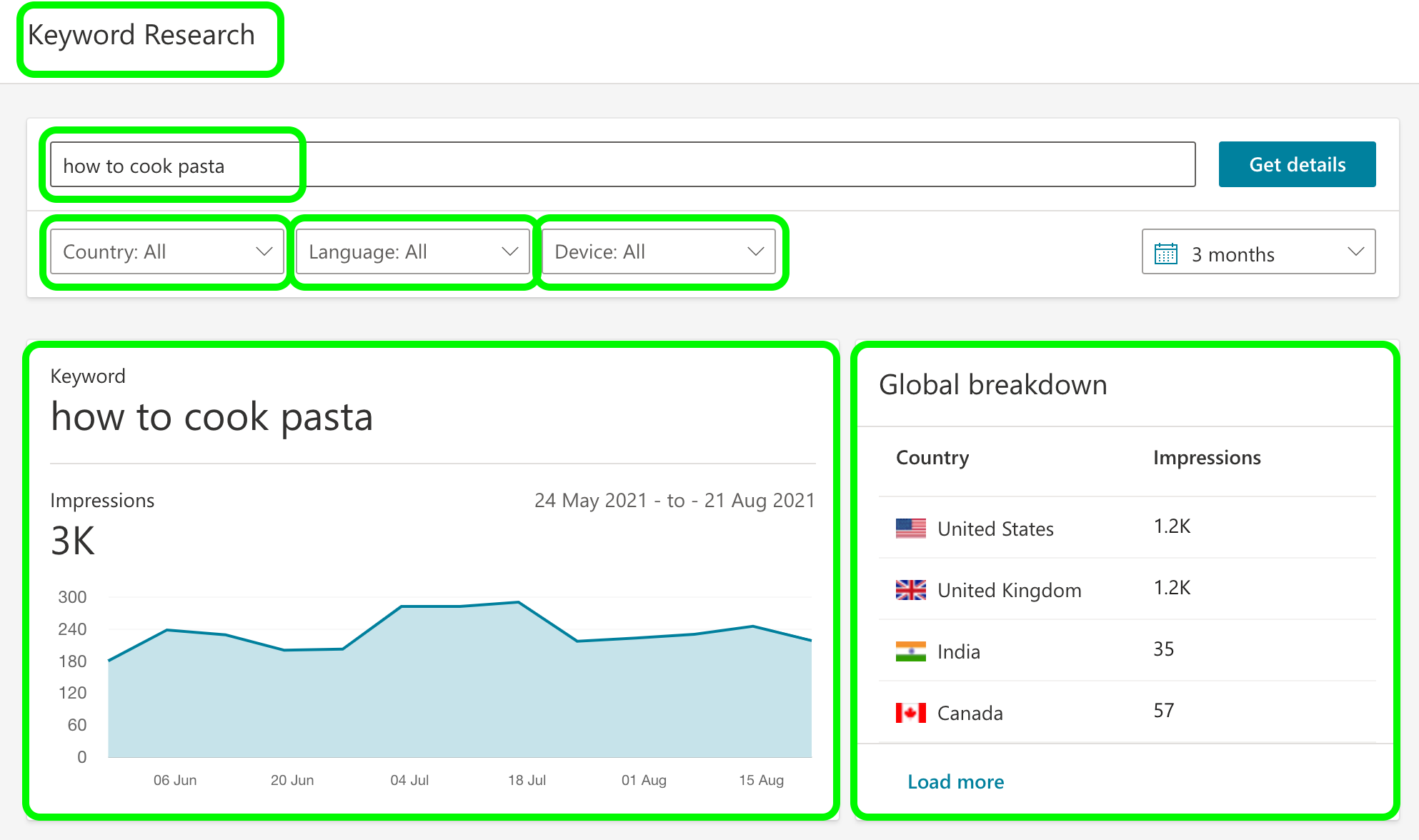 Continuing on, a bit further down the results you will be able to see the related keywords, question keywords, and newly discovered. For each keyword, you can check the trends graph, which you can interact with, and also the impressions (search volumes). What makes this unique is the fact that it may turn out to be quite different than what you may find on Google results. It's still a great way to expand your keyword research and discover new relevant queries.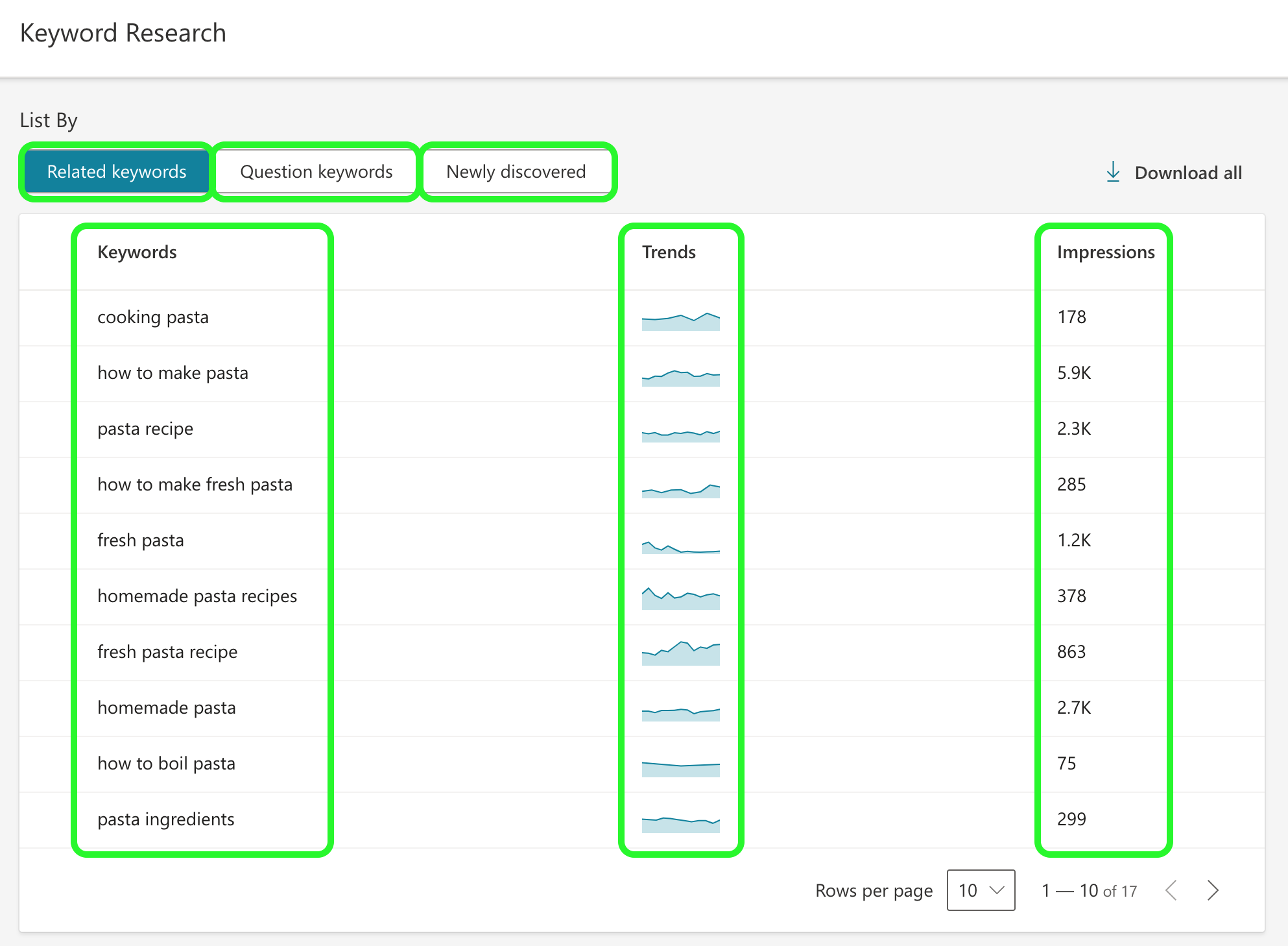 Finally, at the end of the dashboard, you will get the SERP (search engine result page) displaying the top 10 URLs ranking for that specific keyword. They have also included relevant topics for some of the pages, which could be a nice way to uncover new ideas.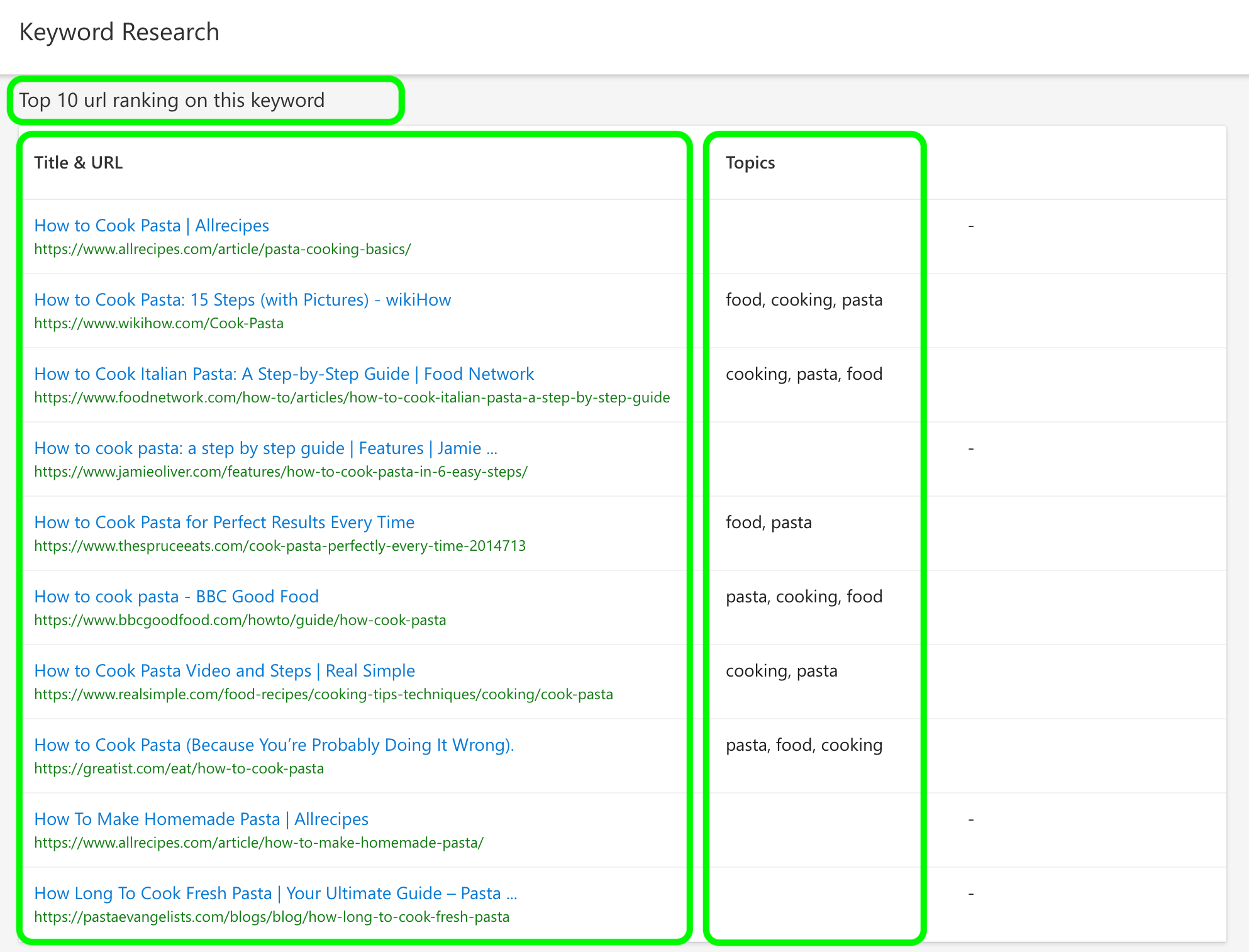 Key Takeaway
Doing keyword research can be a long and challenging task. It will require a lot of organization and effort to successfully complete. But, it can also prove itself to be a fun task to do, experimenting with different tools and learning about your target audience. Don't hold back from trying out back and forth, test multiple variations, go deep with the filters, and use the tools until you get the best results you can. It can take some time, but these 5 tools will be more than powerful to help you out with crafting well-executed keyword research.
A final memorable mention is the Google Keyword Planner. The reason why we didn't include it is that although it's a free tool, it requires you to have a Google Ads account. But if you do have a Google ads account, visit our article to learn how to get the best out of the Google Keyword Planner Tool.